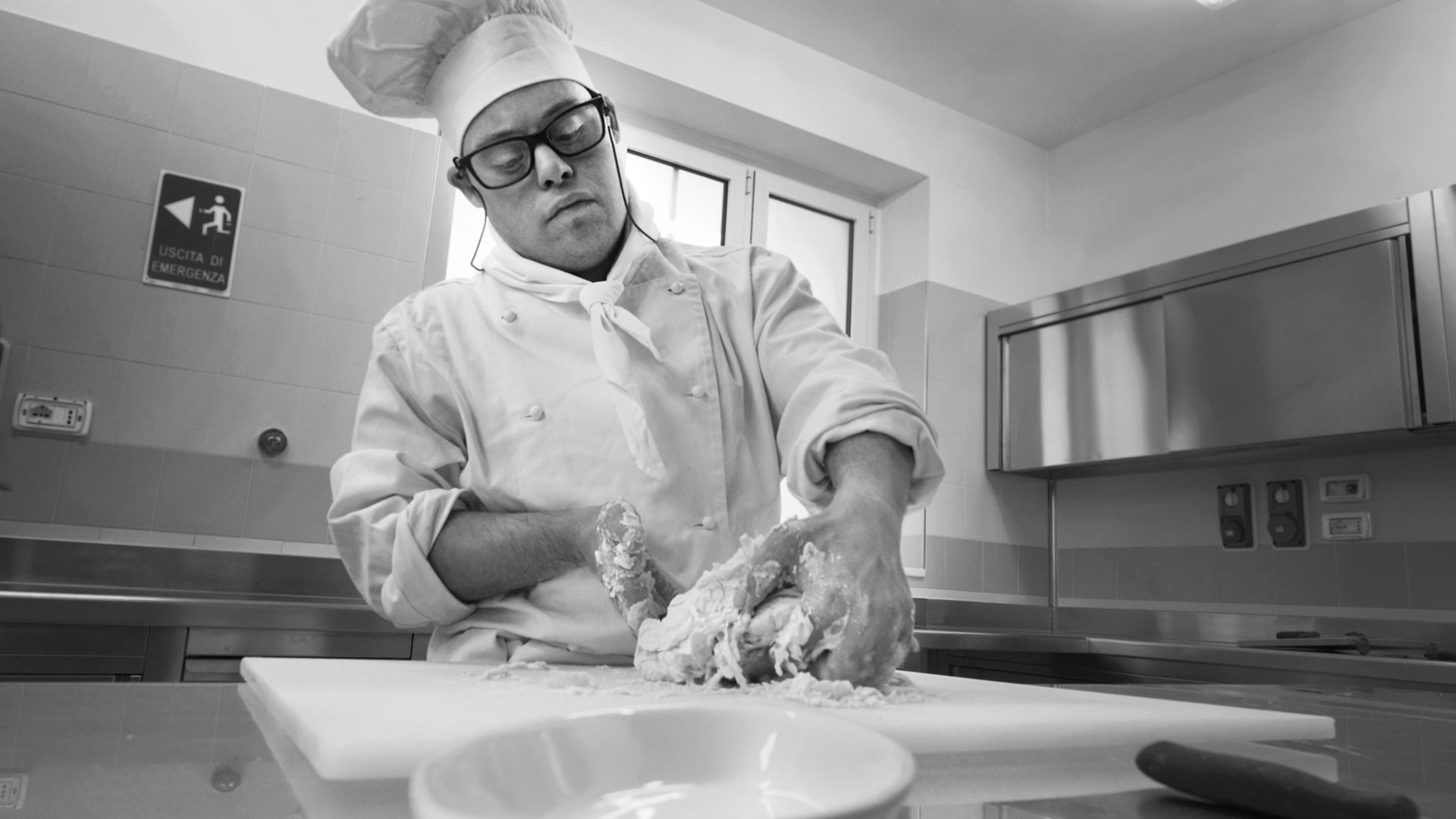 Chef Antonio's Recipes for Revolution – Q&A with director Trevor Graham
Chef Antonio's Recipes for Revolution is an uplifting feast of a film that goes behind the scenes of an Italian hotel-restaurant staffed by youngsters living with Down syndrome. It is the final instalment in writer/director Trevor Graham's culinary trilogy, and is both a celebration of its subjects' spirit and a testament to the titular figure's formidable vision. Through humanistic slice-of-life storytelling, the documentary tackles intellectual disability, individual agency and industrial reform.

Chef Antonio's Recipes for Revolution is the final instalment in your culinary trilogy, the earlier films being Make Hummus Not War (MIFF Premiere Fund 2012) and Monsieur Mayonnaise (MIFF Premiere Fund 2016). What attracts you to food as a vehicle for exploring larger social issues?
Trevor Graham: Everyone likes to eat. Everyone is attracted to food. Equally, everyone likes to laugh … well, most people. So food and humour are great ways to engage audiences with stories and themes that they might otherwise pass over. For me, it's a way of reaching out to audiences – "Hey, you might like to watch this, and you will get hungry. But there is also a deeper connection to food than just satisfying your hunger and our tastebuds."
Food also brings us together around the table. Films do that, too, in the cinema. In the Chef Antonio story, his food is creating social inclusion; I hope the film does, too.

All three films were supported by the MIFF Premiere Fund. What led you to approach the Fund to seek co-financing for the film? How easy or hard was the film to finance?
All film funding is like rolling dice. It is a miracle that any film gets made – really. But, having said that, MIFF has been very supportive of my last three films. I think, as I said above, it's the combination of food and the exploration of larger social issues that MIFF finds attractive. When you think of food culture in Melbourne, it makes sense. And, with Chef Antonio, the film should appeal to Melbourne's large Italian community. Their culinary heritage has had a great influence on Melbourne dining. Lisa Wang (my co-producer) and I acknowledge the strong support we've had from MIFF.
I wouldn't say financing the film was easy. But I also know that MIFF have liked the themes, ideas and approaches that we've come up with. Financing this film was quite a long pathway, and we ended up in the final stages of production becoming an official Italian–Australian co-production, thus bringing euros from Italy to the production. MIFF and Screen Australia, Film Victoria, Soundfirm and the Andyinc Foundation really helped us to get to that significant co-pro status, along with a host of private donors through the Documentary Australia Foundation. From Italy, the Italian Ministry of Culture (MIBACT) joined the production financing, along with the Film Commission Torino Piemonte and our production partners in Torino, La Sarraz Pictures.

The film is mostly shot in Italy. What were some of the ups and downs you encountered while making a film there? And what were your biggest challenges getting this film made?
Dealing with COVID was by far the biggest challenge, particularly on our last shoot in March 2020, when the biggest outbreak in Europe occurred just 100 kilometres from Asti, where we were filming. We left Italy the day the country shut down across its entire length and breadth. COVID lockdowns in Melbourne and Sydney were another issue in the latter stages of post-production. We completed picture editing in Sydney across suburbs, via mobile phones, using WhatsApp. Not an ideal way to wrap up three years of work and six months of editing.
I had the good fortune of spending almost six months living at the hotel at the heart of the story – the Albergo Etico. I became part of the kitchenware. This gave me special access to, and insights into, all the people in the film. I was there with them from morning till night.
I don't speak Italian, and I only worked with an interpreter half the time I was filming. But I muddled my way through. In a way, not speaking Italian enhanced my 'observer status'. No-one wanted to engage me in conversation apart from Chef Antonio, who can talk under water, so I could just be there and film intuitively when it felt right. By that stage, I had a very special relationship with everyone. Occasionally, they would ask me to stop filming, and I would. But most of the time, they liked the fact that a story was being made about their lives at the hotel.
A lot of effort was put into continually informing everyone, with the aid of our interpreter, about the aims and intentions of the film, to ensure everyone's continuing support and participation.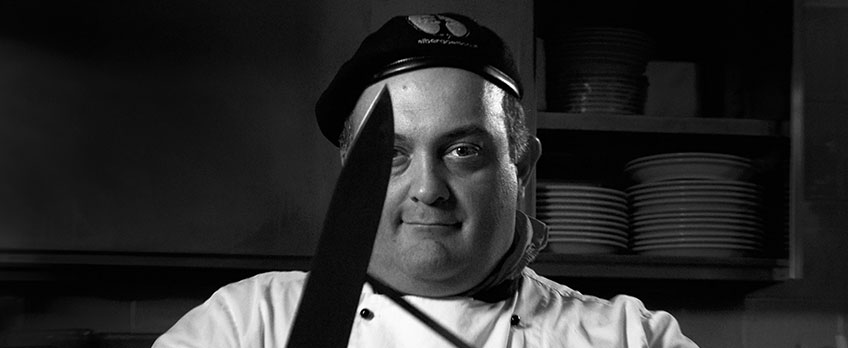 Chef Antonio's Recipes for Revolution

How did you first learn about the film's titular chef, Antonio de Benedetto, and why did you decide that the Albergo Etico's story would be a good one for a documentary?
This story started for me over a dinner date in Sydney with my editor Andrew Arestides and his wife, Tracylee. Our families are good friends. Franny, their eldest daughter, is 28 and lives with Down syndrome. Tracylee, a disability-rights advocate in NSW, insisted she had a great story idea to tell me. She knew very well that I have a passion for social-issue films with food themes like Monsieur Mayonnaise and Make Hummus Not War. She knew also that I was fishing for story ideas to complete my trilogy of food-themed documentaries. So, while cooking our dinner, she pitched her idea.
Tracylee told us she had recently been to Asti in northern Italy, where she had stayed at an extraordinary hotel, the Albergo Etico, and met the inspirational chef at the heart of it all, Antonio de Benedetto. Tracylee explained how revolutionary the Albergo Etico and the Tacabanda restaurant are for people living with Down syndrome. And, more than that, the chef was a larger-than-life character. His recipes were delicious and true to the unique, regional Piemontese cuisine.
My appetite was whetted and, within months, I was on a plane to Asti with cinematographer Jenni Meaney. I was taking a punt. But I figured if the scenarios were as good as Tracylee had suggested, and I trusted her judgement, then we should go and film it properly. Little did I know that this would be the first of seven film shoots and that I would be going back and forth between Sydney and Asti for the next three years.
On that first shoot, I met Chef Antonio, Mirko and Jessica. I knew instantly that they would all have great screen presence. I loved hanging out with Mirko and his mother, Franca. Equally, when I met Mirko's girlfriend, Francesca, I had the same response.
Over the years, I've watched a lot of classic Italian cinema – the films of Fellini and Pasolini, the neorealist films of Vittorio De Sica. I kept thinking to myself, "I'm living in a Pasolini film."

This documentary is an intimate depiction of the lived experiences of disabled people. How did you come to choose which of Chef Antonio's apprentices you would focus on, and what you were hoping to achieve by taking us into their day-to-day lives outside of the Hotel Albergo Etico? What were some of the perceptions around disability that you were trying to challenge?
The intimacy comes from the long-term approach to filming and observational filming – call it 'fly on the wall', if you like. A great deal of trust was built up between us all. The long-term approach could therefore include Mirko's hospitalisation when he was gravely ill and in need of heart surgery. Equally, being with Mirko and Francesca on many occasions, I was privy to their feisty relationship, the loving moments and the tense moments, which required a great deal of sensitivity and trust.
When I first met Mirko and he told me about his girlfriend and his life at the hotel, he really engaged with me, wanting to tell his story – he was reaching out. I thought he had so much character, with a blunt humour and honesty. Jessica was shier about being in front of camera but, once again, time helped. Jessica had time to get to know me and Jenni Meaney, and we got to know her. Jessica particularly liked that a woman was shooting part of the film, as did the other young women working at the hotel. They had mostly seen men behind cameras, including me.
In filming day-to-day life, along with the loves, dreams and dramas, I want an audience to experience the lives of these young people who are striving to accomplish things in their lives – work, learning, loving – while having tragedies, just like we all do. We can all achieve our dreams if we strive and are given opportunities to show what we can do. Ultimately, human beings are like a tapestry of sizes, shapes, colours, personalities and social backgrounds. We all need something to do in life, someone to love and something to look forward to. As Jessica says in the film of her love for Niccolò, "We are proof that love comes in all shapes and sizes."

The film has key messages around supporting and empowering those living with intellectual disabilities and ensuring they have agency and independence. What do you think are the takeaways for Australian employers and policymakers who see this film?
The Albergo Etico and Chef Antonio are plotting a world takeover! There are now seven similar hotels in the planning stage and/or that have opened in Italy. There is a hotel in Argentina and now a hotel in the Blue Mountains, the Hotel Etico Australia. The message is that this scheme works. This form of culinary and hospitality training can engage people living with intellectual disabilities in meaningful work, through which they can learn new skills and create social inclusion for them and the wider community.

What lessons did you learn from spending time among Chef Antonio and his apprentices?
Be patient and sensitive, observe and listen – even if you don't speak Italian! I learned that human beings can do amazing things for and with each other. I learned that inspiration and social change can start with a small thing, like teaching someone to make their bed or cook a simple meal for themselves.

Who do you hope will see this film? What would you like audiences to take away from this film?
I want the whole world to experience life at the Albergo Etico by watching the film and getting to know Mirko, Jessica and Chef Antonio. I hope audiences get hungry watching it. I hope they leave the cinema feeling they have experienced a great human story of warmth and humour, and that social inclusion enriches our lives.

Chef Antonio's Recipes for Revolution screened as part of the MIFF 69 program in 2021.