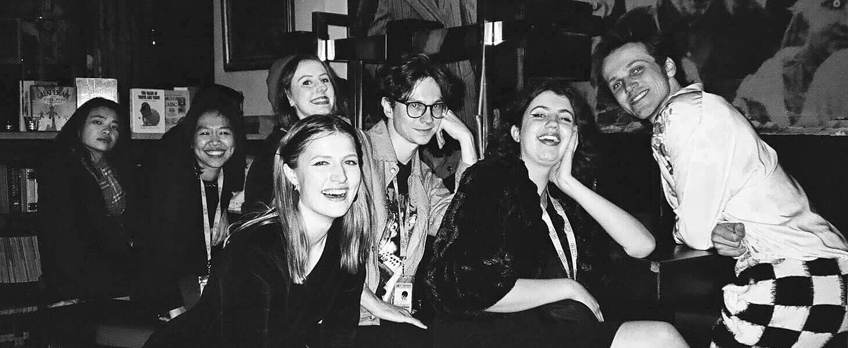 Q&A with Debbie Zhou & Jessica Kiang (Critics Campus 2018)
Debbie Zhou was a participant in the Berlinale Talents Press in 2020. She is a Managing Editor of the online film publication Rough Cut, and has written about film and theatre for The Guardian, Time Out Sydney, The Saturday Paper and Metro.
Jessica Kiang is the Berlin-based International Critic for Variety, and also writes regularly for The Playlist, Sight & Sound and the BFI. She has served on festival juries from Iceland to Egypt to Austria, most recently adjudicating the Platform competition at the 2019 Toronto Film Festival.
We speak to Debbie and Jessica about their experiences as mentee and mentor, respectively, during MIFF 2018's Critics Campus.

What's your top highlight from Critics Campus 2018?
Debbie: There was a moment at the Centrepiece Gala – the last social event of Critics Campus – with all us mentees in a circle, clutching each other's shoulders, kicking our legs up to the music, purple lights swimming across the dancefloor. It's ridiculously cute and gross, but it says everything about how we had gelled in that week: a lifelong connection that has taken us far beyond MIFF.
Jessica: It's a tie between sampling a food culture that can support a pop-up truffle kiosk, and our impromptu karaoke night, when I realised that, as much fun as MIFF was for me, for the Class of '18 it was properly meaningful. I got to be a small part of this crop of articulate, fabulous weirdos making lasting connections through impassioned movie bickering and bad song choices. It was an honour. Still, the truffle kiosk maybe shades it.

Why is Critics Campus important?
D: It is a creative hothouse of brilliant minds learning together against the backdrop of a buzzing, international festival! You bond with others who share your passion to write about films, your curiosity, your desire to improve. In a freeing, energetic environment, you experiment; you hear diverse perspectives that, in turn, spark lightbulb moments that challenge you to further explore your own voice.
J: New-talent programs feel particularly valuable in the critical sphere because the landscape is daunting to inexperienced writers; they need to realise it's no less so for 'established' critics! It's perhaps ironic that the key learning from even the best program (and MIFF's is the best) should be that you already have all you need to be a critic, but that demystification, coupled with inspiration, is what MIFF does so well. One-on-one mentorships are crucial – of course, if you loathe your partner-in-crime, it could be a nightmare. Thankfully, Debbie and I are almost equally adorable.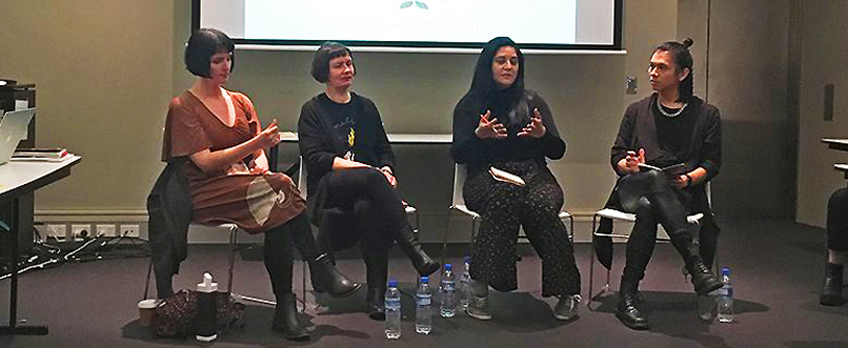 Critics Campus 2018 mentors Violet Lucca, Philippa Hawker, Jessica Kiang and Adolfo Aranjuez

What's something memorable about your mentor/mentee?
D: Besides having so much inspirational energy that I have now literally followed in her footsteps across the world to Ireland (not a stalker! I swear!), Jess changed my entire way of approaching a film review over a bowl of ramen. That memory says everything about her superior mentoring power, her unwavering patience, her impeccable taste. And all over soupy noodles; no one else could ever.
J: Grotesque humblebrag, but I'm told Debbie cited me as a critic she liked to read in her original application, way before I was attached. So it is intensely admirable that not once has she ever betrayed her deep disillusionment with the actual experience of knowing me in person. It suggests a level of poker-faced dissembling that will stand her in extremely good stead in the course of her already tiresomely brilliant career.

Has your MIFF experience influenced your perspective on the world inflected by COVID-19?
D: Quite simply, MIFF made me a tougher, more confident writer – and a more optimistic, collaborative one – by providing a supportive space to develop a nuanced, practical understanding of the criticism sphere. That sense of community, connectedness and 'coming together' feels all the more special now, and will hopefully equip us to face whatever the film world looks like on the other side.
J: Hahaha, well, there is the fact that Debbie is living out the pandemic with my family in Ireland and has basically Single (Non-)White Female–ed her way into my mother's affections in my place – true story. But, for me personally, I do now think of MIFF with a certain wistfulness: those 10 days of discovery, discussion and dumplings embody so much I adore about the way my job used to be – the way I'm not certain it can quite be again.

Debbie, one last question for your mentor?
D: I should ask some fun question, but in *serious mentee mode*: What one thing would you change about the current film-criticism model?
J: I wish criticism were more widely understood not as a thumbs-up / thumbs-down consumer index for specific movies, but as an enrichment of wider film culture. I cherish the utopian hope that, as people's relationship to art changes subtly during this pandemic, so perhaps might their relationship to criticism, so it's not just about a letter grade that maybe gets you in the door; it's about the conversation you have after you leave.

And, Jessica, one last question for your mentee?
J: Pursuant to current living arrangements: How are mom's tomato plants doing? But, no, I'll just ask about Rough Cut, the (excellent) publication founded by Debbie and her irritatingly dynamic MIFF classmates. [Because, Deb, never miss a chance for self-promotion – God, I cannot stop mentoring.]
D: I'm hardly complaining! I'm really proud of Rough Cut's first year [*slyly name-drops* roughcutfilm.com], particularly that we foster emerging writers. We remain open to new voices: even as we start covering new corona forms such as virtual film festivals, we want to stay open to experimentation and new perspectives. And the plants have grown leaves, so the tomatoes will again be ready to go mysteriously missing when you're next in Ireland.