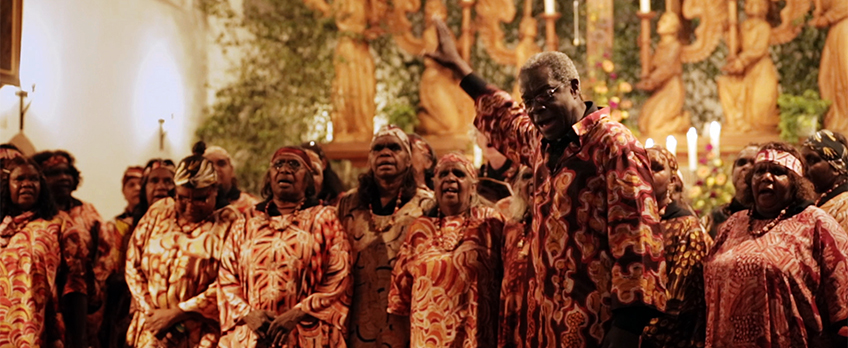 Q&A with Naina Sen
Naina Sen is the director of the MIFF Premiere Fund-supported documentary The Song Keepers. She speaks with us about meeting Central Australia's answer to The Buena Vista Social Club.
The Song Keepers tells the extraordinary tale of the Central Australian Aboriginal Women's Choir and their custodianship of historical German songs, which they bring back to Germany on a tour during their first ever trip overseas. How did you come to be involved in their unique and compelling story?
I first heard about the choir on a flight from Melbourne to Alice Springs in early 2014, from a lovely woman – Miranda Daniels – sitting next to me on the plane. We started talking about my work as a documentary filmmaker and installation artist, and in the process she told me about this amazing women's choir from Central Australia. Over the next few days, I looked up some of their performance videos online (which were hard to find and few and far between) and I was immediately intrigued.
I got in touch with Miranda and said I'd love to talk to Morris Stuart, the choir's conductor, about creating audio-visual projections to accompany their singing. Some weeks later Morris and I had our first of many long conversations about the choir, the choral history of Central Australia and more. He said they were developing a new choral show to take on a historic tour to Germany and loved the idea of projections to accompany their singing. My immediate response to all of this was that there needed to be a documentary on this incredible, completely unknown story. Morris talked about how the women had been wanting to tell the story of their music and history for a while now, so maybe with the upcoming tour, the time to tell that story had come.
A few months later, I met the choir for the first time and sat in on their rehearsal. Those You Tube videos hadn't remotely done justice to their music: I'd never heard anything like it. There was something so emotionally compelling about how they sang. Even though I didn't understand what they were singing about, I understood how it made me feel – joyous, inspired and intrigued by who these amazing women were and how they came to work with their equally charismatic conductor.
That was the start of an incredible three-year journey that would culminate in The Song Keepers, my debut feature documentary.
With a background in music videos, documentary and installation work, you are well placed to be the writer, helmer and director of photography for this musical documentary. But it must have been difficult to do so much on your own. What challenges did you face when oscillating between these roles?
The Song Keepers was filmed over a two-and-a-half year period. Having the luxury of filming intermittently over such a long period of time meant that the main characters and the many nuances of this story presented themselves organically through the building of strong relationships between the women, Morris and I. The development and research time I had also focused my vision on what elements of the story I wanted to capture, and how, during the first two big phases of filming: the preparation and rehearsals before Germany, and the tour itself. This clarity of the story I wanted to tell really helped ground me whilst I oscillated between my different roles.
In early 2015, we brought cinematographer Chris Phillips on board. Having Chris there to share the filming load was invaluable, not just because of his beautiful cinematic eye – which I believe took the filming to another level – but because it also meant that I didn't have to film such a large ensemble cast all by myself, whilst simultaneously directing. Our biggest challenge was time. Suffice to say we had very, very long shooting days and Chris was amazing.
And whilst we were on tour in Germany, a childhood friend of mine from India – Raoul Amaar Abbas – who is also a filmmaker happened to be there at the same time, so he came on board for part of the tour as an additional cinematographer. Again, having him there meant that along with filming, I had the head space to make sure the over-arching themes of the story were being captured in the right way.
The key thing that made all of this possible, though, was the support, openness and patience that Morris and the women showed me, and generously sharing their personal stories and lives with me. Without their genuine participation and input, there would be no film and one of my biggest highlights has been the collaborative nature of how this film has developed. It was made with a lot of love and the support of many people and the serendipity of many things coming together. So yes, whilst I certainly had my work cut out for me as the director, writer and cinematographer, I didn't do it alone. And even when the workload of my multiple roles was overwhelming, it was always outweighed by the sheer joy and fun I had whilst making it and getting to know these amazing women.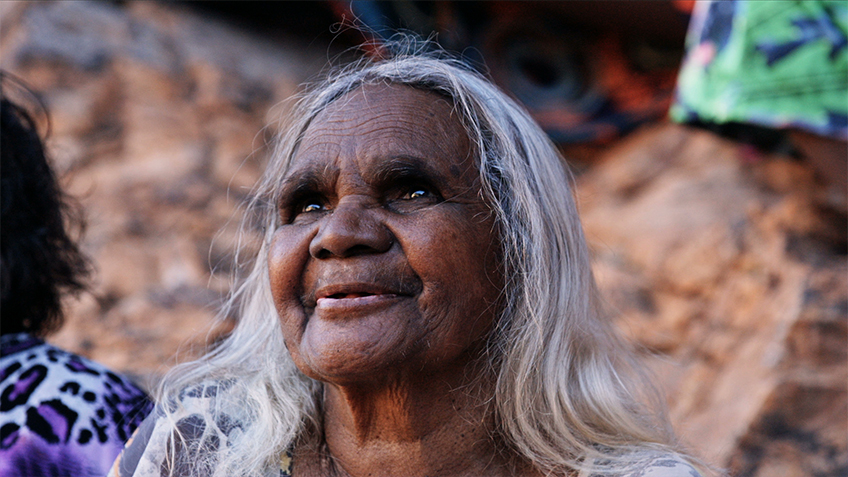 There is a truly joyous and captivating scene during the German tour when choir members start playing games with each other, laughing and singing childhood songs. As a documentarian, what was your approach to capturing these natural scenes? What efforts did you make to gain the trust of the women before you commenced shooting?
That scene is one of my favourites from the film too, because it captures the women in their total element: strong, cheeky, hilarious, proud and completely sure of who they are – which to me was a central element of why I wanted to make this film: to take the audience on a journey to get to know these amazing stateswomen in an intimate way, and on their own terms.
From a filmmaking point of view, by the time we got to Germany I had been working with the choir for over a year, quite extensively, so I had developed strong friendships with the choir as a whole. Time talking, time having cups of tea, time filming, time collaborating on the projections for the show, time rehearsing for the show. Like any relationship, we got to know each other and trust each other over time. The women had great ownership and pride in wanting to tell this story, so the effort and relationship building and trust happened from both sides quite organically.
From a story point of view, I wanted to capture the tour and events in Germany as naturally as possible, from a fly-on-the-wall perspective, so it was the women who were showing you their world and who they were, whilst navigating a totally new world. As much as capturing the performances and audiences were important, to me what was key was filming the women as unobtrusively as possible as they experienced a new country, a new culture and took all of it in their stride. It was a privilege to witness and document.
How did the length of the tour impact or limit your filming schedule? And how did you balance that with the choir's backstory? Were these decisions made before or during the shoot, or in the edit suite?!
It wasn't so much of the length of the tour that impacted our filming schedule, as how jam-packed the tour was with performances, events, sightseeing etc. So for me it was making those decisions day to day, on the fly, of what to film. I wanted to ensure we were capturing all the important things that were happening on the tour but still giving the women enough space to enjoy themselves and take in all the experiences they were having without them getting camera fatigue. Also, I wanted to ensure that the filming didn't impact on their rest time too much, as the touring schedule was so demanding and they had to be at their best each night while they performed.
In regards to the back stories, when we went on our first big filming trip to the communities in early 2015, I made the decision then to focus on the rehearsals and the first round of interviews with the key women that focused more on the choir and their personal anecdotes of growing up with this choral history. Given how heavy their rehearsal schedule was at that point, I decided to shoot all the back stories during our final phase of filming, after we came back from Germany. I wanted to film the back stories on community, at a time when the women could just focus on the telling of these important, deeply personal stories in a relaxed, safe environment where they were unencumbered by anything else. It also meant that the women had time and perspective to think about how they wanted to tell these stories and what parts of their story they wanted to share. Together, we also had time to discuss and prepare for how I would illustrate some of those elements in a personal and respectful way.
The intention was always to film these stories against the sweeping landscapes of the Central Desert, to place viewers firmly in the environments these stories and women are from, in contrast to the rehearsal spaces and urban environs of the tour of Germany, through which these stories are weaved.
Given how important these stories are and how privileged I felt to be entrusted with them, I wanted to make sure the women got to tell their stories exactly how they wanted to.
What ideas do you have for your next project? Will we have the pleasure of seeing more of your work soon?
Going through the process of making my first feature documentary has been an incredible journey and a massive learning curve! I don't think I've ever felt so simultaneously rewarded, content, proud and exhausted! My current priority is trying to make sure as many people as possible get to watch this film so the women can share their story and music with the world! Having said that, I'm in development on a few different projects that deal with the things that I'm most interested in: personal storytelling, identity and cultural diversity, and connection. I'm currently in development on a story that explores the connections between Indigenous and Indian culture, and hope to tell more stories in the future that explore my own cultural heritage. Watch this space!
The Song Keepers will have its World Premiere at the 66th Melbourne International Film Festival, on Sunday 6 August. The choir will be in attendance at the screening to sing a few songs. They will also stage a full 90-minute concert in association with the Melbourne Recital Centre on Monday 7 August. Tickets for this choral performance are on sale separately via the Recital Centre.