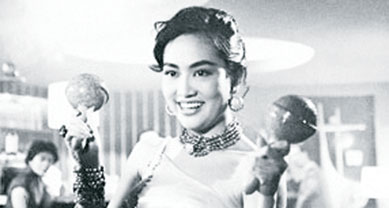 The Wild, Wild Rose (1960) is an energetic rendering of Bizet's famous opera Carmen.
Transported to the nightlife district in Hong Kong, the classic tale of temptation and jealousy is given a film noir treatment by director Wong Tin Lam.
Deng (played by the exquisite Grace Chang) is a fiery nightclub singer and a temptress who takes a bet that she can seduce the club's naive new pianist, Liang, within 10 days. The amorous games begin but inevitably Deng's wanton antics lead to tragedy.
Produced in the heyday of Hong Kong's lavish musicals, The Wild, Wild Rose is an enjoyable ride, with lively songs and distinctive, stylised production design and cinematography. Chang is irresistible in her interpretation of the Carmen role, bringing an irrepressible energy and sensuousness to the performance.
---
D Wong Tin Lam P Robert Chung, Stephen Soong, Ma Shu-Yong
S Nellie Chin-Yu WS Cathay L Mandarin w/English subtitles
TD 35mm/bw/1960/128mins
Wong Tin Lam was born in Canton, China, in 1928. His films include Lily of the Valley (1962), The Crimson Rose (1968) and The Unknown Swordsman (1970).