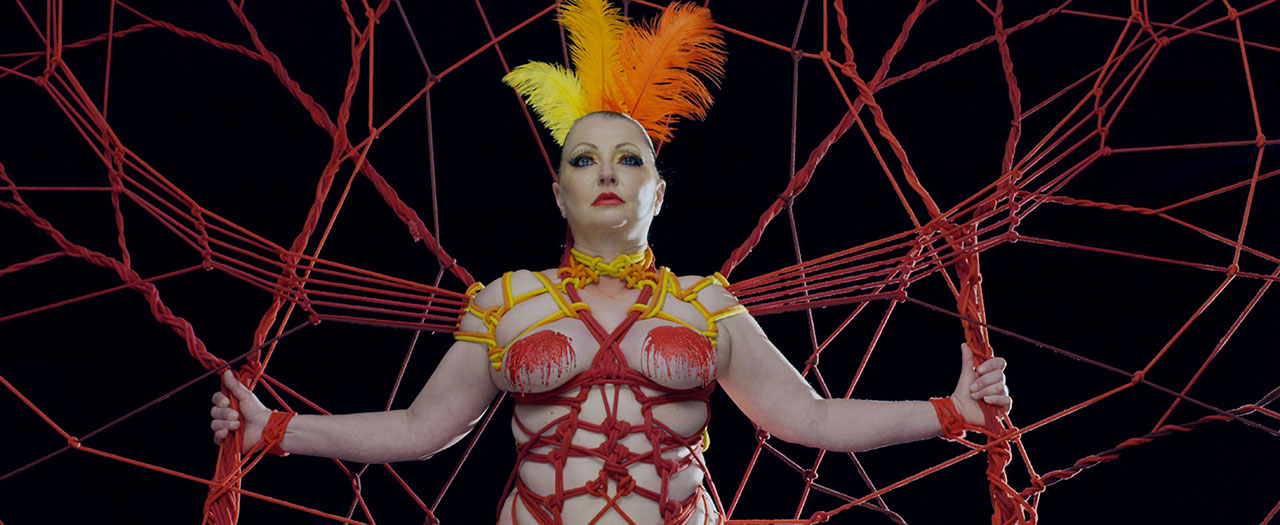 A world premiere screening of Morgana, about Australian feminist pornography icon Morgana Muses, who reinvented herself in her 50s from lonely and unhappy housewife to adult film superstar. After the screening join Morgana herself, the filmmakers and other special guests for a panel discussion about seeing past the stereotypes to embrace sex-positive and diverse erotica.
Panellists: Josie Hess, Judith Lucy, Morgana Muses, Fiona Patten and Isabel Peppard; moderated by Deb Verhoeven
Josie Hess
is an award-winning filmmaker based in Melbourne. She has a Bachelor Film & Television from Swinburne and a BA in History and Cinema Studies from the University of Melbourne. Her graduate film,
Sunroom
, premiered at New York's Blue Stocking festival in 2015. She has worked extensively in film marketing as the social media manager for boutique horror distributor Monster Pictures. Josie shoots and edits indie erotica for various studios in Australia including Permission4Pleasure. Her work has been screened all over the world and has received numerous awards including Best Fetish Film at the 2017 Toronto Porn Awards. She most recently produced
The Grave of Saint Oran
, an animation based on a poem by Neil Gaiman, screening at this year's MIFF.
Judith Lucy
sprang to national prominence in 1993 when she joined the cast of ABC TV's
The Late Show
. Since then she has produced and starred in her own series for the ABC:
Judith Lucy's Spiritual Journey
(2011) and
Judith Lucy Is All Woman
(2015). In 2019 Judith joined the cast of
The Weekly
on ABC-TV, as their in-house Wellness Warrior. Her live audience has grown every year, selling out Hamer Hall in Melbourne and the Opera House Concert Hall in Sydney as well as theatres in every capital city and a few regional centres as well. Her 2016 show,
Ask NO Questions Of The Moth
, was recorded for a special for Stan and went on to win Judith the Helpmann Award. When Judith isn't on the road solo, she is sharing the stage with Denise Scott and their last show,
Disappointments
, was a monster hit, touring for two years and taking Jude and Scotty to London's West End; it also won the People's Choice award at the Melbourne Comedy Festival.
Morgana Muses
is an age-positive, sex-positive creative director of Permission 4 Pleasure. She shares her journey of sexual exploration to audiences through her award-winning short films. At the tender age of 47, two years after leaving her marriage, she embarked on her journey of sexual exploration and learning. Much of Morgana's work deals with themes of duty, exploring desire and being bound by expectations. Her film career as a director, writer, producer and performer has gone from strength to strength. In 2012 she was the recipient of the Petra Joy Award for first time filmmakers for her entry
Duty Bound
. She then collaborated with Anna Brownfield and Sensate Films, having her films screen at Cinekink and at the Berlin Porn Film Festival in 2013 and 2014. In 2015 Morgana relocated to Berlin, won best short documentary at Cinekink for her short
It's My Birthday and I'll Fly if I Want To
and won the 2015 Heart Throb of the Year at the Feminist Porn Awards. In 2018 she won hottest artful porn award at Toronto International Porn Film Festival for her experimental short
Labia of Love
. Morgana is in post-production on her 12th film.
Fiona Patten
is a member for Northern Metropolitan Region in the Victorian Parliament's Legislative Council. Leader of the Reason Party, Fiona was first elected in 2014 and re-elected in 2018. Since being elected in 2014, Fiona has garnered respect from all sides of the political divide and has worked tirelessly to deliver legislative reforms that many thought impossible. Her achievements include creating abortion clinic safe access zones, initiating Australia's largest public inquiry into drug law reform, online e-petitions to parliament, legalising Uber, securing a trial for Victoria's first medically supervised injecting centre, and initiating the Parliamentary Inquiry that led to Voluntary Assisted Dying laws. Fiona is now working towards improving Victoria even further, and is pushing to legalise and regulate cannabis for adult use, continuing to implement electoral reform, religious accountability and greater separation of church and state, legalise sex work, and more. Fiona's decision to run for political office came after 20 years of advocating for the rights of small business owners, sexual health organisations, sexual freedoms and censorship reforms.
Isabel Peppard
is a multi-award-winning director, artist and stop motion animator whose work has screened at over 50 international festivals including MIFF, Sitges and Annecy as well as at art institutions such as GOMA (QLD) and MOMA (Rio De Janeiro). Her short animation
Butterflies
(starring Rachel Griffiths) won the Dendy Award at the Sydney Film Festival and was nominated for the AACTA. In 2014 Isabel was a recipient of The Directors Acclaim Fund from Screen Australia, allowing her to write her first feature horror script,
Silk
, under the mentorship of acclaimed writer/director Jennifer Lynch (
The Walking Dead
,
Chained
). Isabel's work uses gothic fairytale and handmade symbolic elements to tell humane stories of existential horror and personal transformation.
Prof Deb Verhoeven
is a writer, broadcaster and commentator on the Australian film industry. She is a former director of the Australian International Documentary Conference and Film Festival and the Fringe Film and Video Festival. She currently holds the position of Canada 150 Research Chair in Gender and Cultural Informatics at the University of Alberta in Edmonton.
---
Contains graphic sexual themes and nudity