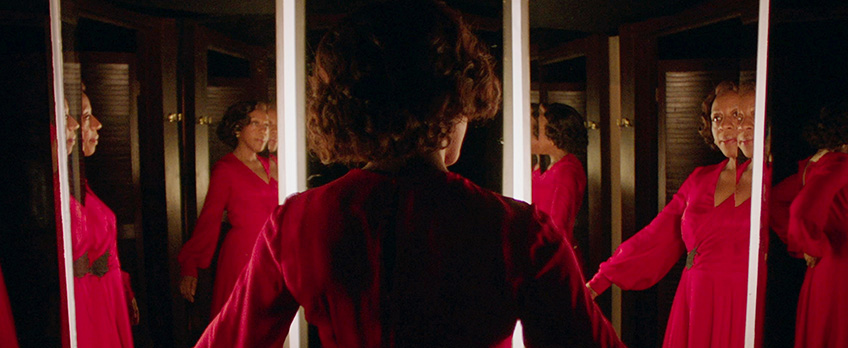 Peter Strickland Presents: Influences and Inspirations
In celebration of singular British director Peter Strickland's newest work of art, In Fabric, MIFF is proud to present a retrospective of his feature films accompanied by a mini program of shorts and features that have inspired the director – selected by Strickland himself especially for MIFF audiences. Here, he talks about these selections and their impact on him:
Allures (Jordan Belson)
How such intense cosmological rapture could be channelled into an obscure, 8-minute abstract film is beyond me. It's also beyond me how Jordan Belson's work remains almost invisible to this day. His work has often been overshadowed, but never eclipsed.
I waited five years to see Allures after having read about it in Light Moving in Time by William C Wees back in 1993, and my anticipation was duly rewarded. It's a film that singularly soars above the efforts of other abstract filmmakers by transcending any forbidding academic rigour or astrological hocus-pocus. It's a report from another realm, lying in suspension and hidden way beyond the alternative mainstream radar. Celestial synonyms become redundant when attempting to convey the euphoria evoked in the viewer. Belson is that rarest of artists – a conduit, a transmitter of something beyond himself. At once psychedelic and divine, Allures embodies our furthermost and innermost wonders.
Street of Crocodiles (The Brothers Quay)
I first saw Street of Crocodiles on Channel 4 television in the summer of 1991 and didn't understand a thing. Almost thirty years on and I'm still at a loss as to what this wayward adaptation of Bruno Schulz's book all means. The dolls, the shop fronts, the dusty glass – an unfathomable world within a world that hides more and more with each repeated viewing.
I fell in love with an imagined Eastern Europe thanks to the Quays and was lucky enough to work with Nic Knowland who shot their feature films.
Outer Space (Peter Tscherkassky)
I first saw this film at a house party in Chesterfield around 2000, but its impact came when I saw it again in the cinema in 2009. Now and again, a short film comes along that transcends its own restrictions. Outer Space is a stellar example of short-filmmaking that is fully realised, bloody-minded and rapturously steeped in its own world.
On paper, Outer Space is a formalist hall of mirrors formed out of a few sampled scenes from Sidney Furie's The Entity that have been painstakingly re-exposed in all manner of formations. Plot would be too wasteful in such a film, as Tscherkassky just cuts to the core of the intensity in both The Entity and the medium of film itself. If anything, Outer Space is prophetic regarding the death of celluloid, what with the medium's haunted optical crackles and distortions pushed to the fore. The mechanical nature of the artisan at work in this film is something that the digital medium couldn't replicate convincingly.
But purist dilemmas aside, Tscherkassky has made a film so aggressively cinematic that its very voltage puts a jolt through your system. Seen in the cinema, Outer Space is a stunningly beautiful, convulsive spell of a film – loud, confounding, uncompromising and far more inspiring than too many feature films I could care to mention. A sequence in Berberian Sound Studio paid tribute to Outer Space, but we couldn't even come close to what Tscherkassky achieved.
Submit to Me (Richard Kern)
The depraved allure of Submit to Me was already an iconic image in the form of a sneering Lung Leg on the front cover of Sonic Youth's EVOL album. Richard Kern screened his films at London's Scala cinema in September 1991, only I couldn't attend. Three years later I eventually hired a VHS tape of Kern's films from Kim's Video on St Mark's Place when I was location scouting in New York for my short film, Bubblegum. I surreptitiously watched the tape at my Greek relatives' place in Woodhaven, Queens, and was blown away by the askew energy and visceral grit of the various transgressive skits. Kern's dizzying, roving camerawork combined with the charged delirium of his willing performers transcends its niche underground roots to form an ever-threatening fireball of sexual and narcotic aggression. Regular Kern collaborator, Nick Zedd acted in my 1995 film, Bubblegum.
The Flicker (Tony Conrad)
Tony Conrad's The Flicker is the purest and most unrelenting of the avant-garde sub-genre of flicker films. Along with his former wife, Beverly Conrad, and Paul Sharits, Tony painstakingly put together mathematically derived patterns of black and white frames that resulted in a hallucinogenic state in which one thinks other colours or shapes are coming out of the screen. The insistent, driving 'score' that feels as if it's the sound of a derailed projector adds to the intensity. Part endurance test, part euphoric bliss, The Flicker is the ultimate abstract film.
The Cremator (Juraj Herz)
A Slovak friend bought me the Czech DVD of Juraj Herz's The Cremator for Christmas in 2005 and from the opening seconds in the zoo, I fell under the spell of this curious mantra of death. There's too much to recommend: the brilliant detail and delirious wide angles of Stanislav Milota's cinematography, Zdeněk Liška's choral reveries, the brutal collage of the opening credits, Jaromír Janáček's wonderfully disconcerting editing and, of course, Rudolf Hrušínský in elated form as the errant and suspiciously health-conscious Mr Kopfrkingl, the titular Cremator.
For a film that deals with a highly distressing subject, there's plenty of devious humour and enough of a surrealist framework to elevate it beyond the unwatchable. Both ludicrous and malevolent, The Cremator is an irresistibly septic meditation on death and the hideous lure of fascism.
Trash (Paul Morrisey)
My copy of Danny Peary's Cult Movies Volume One (bought in early 1990) was a bible of decadent, hidden treasures in the pre-internet days when one had to imagine what a film was like based on words and one or two stills. An image of Holly Woodlawn in the book transported me to a world of decadent ambiguity, about as far away in spirit from the suburbs of my hometown as I could imagine. That image fuelled my obsession with Warhol and the New York underground, which eventually led to working with Ms Woodlawn five years later.
I still love Trash for its mischief, playful ambiguity regarding gender/sexuality and warmth for its characters.
Shadows of our Forgotten Ancestors (Sergei Parajanov)
In Mark Le Fanu's book on Tarkovsky, he devoted a chapter to other filmmakers from the Soviet era. A striking still from Paradjanov's Colour of Pomegranates eventually led to buying a VHS copy of Shadows of our Forgotten Ancestors in the early '90s on the now defunct Connoisseur Video.
To this day, I can't think of any other filmmaker who could render folkloric and Orthodox imagery in such a bracingly heightened and flamboyant cinematic language. Paradjanov's film is an endless source of inspiration in terms of staging, sound and camera. A breath-taking surge of Carpathian psychedelia.