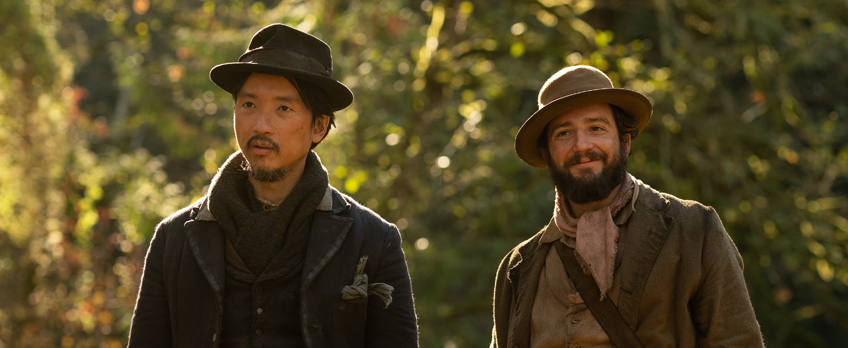 First Cow, Four Ways
The live-editing workshop is an integral part of each year's Critics Campus, and in 2020, four members of the cohort were assigned Kelly Reichardt's First Cow. After penning their reviews, the participants sat through an intensive revision session with Film Comment assistant editor Devika Girish. Read their final reviews below.
———
First Cow, a frontier drama set in 1820s north-west America, is a parable of emergent capitalism that exemplifies the saying "risk it for the biscuit". Kelly Reichardt's film has been widely acclaimed and heralded as a masterpiece for its depiction of the power of friendship between two men, King-Lu (Orion Lee, Chimerica) and Cookie (John Marago, Not Fade Away), and its critique of the perils of capitalism. However, this reception, though true in part, feels inflated.
King-Lu is a Chinese immigrant with a shrewd business mind. Cookie is a sensitive cook who hails from Maryland. The men live in poverty on the bleak and muddy frontier while harbouring aspirations for a better life. They become friends and then business partners when King-Lu decides to steal milk from the titular first cow, owned by the mercantile Chief Factor (Toby Jones, Infamous), so that Cookie can make delicious "oily cakes". They sell the cakes at the local market for high demand and fast profit growth. The cakes "taste like London", according to the bourgeois British Chief Factor and, soon, they're saving up to head to San Francisco (a present-day hub of venture capitalism). The goal motivates them in spite of the risk of getting caught, which creates an obvious parallel with late capitalism's essence of precarity.
There are scenes that aim to show the pair's friendship transcending profits: Cookie sweeps their shared home as King-Lu chops wood in the background; King-Lu brainstorms business ideas as Cookie picks blueberries. But despite the gentleness of these images, the succinct dialogue – "We have to take what we can when the taking is good" – makes the friendship feel opportunistic, creeping too close to the late-capitalist motto: Invest in people who invest in you!
And while we empathise with King-Lu and Cookie's journey, the political undertones feel self-evident. We worry about when their theft will be discovered, and Reichardt amplifies the risk by making the Chief Factor a broadly drawn, power-hungry colonialist. He speaks gleefully of punishing rebels while, through the window, we see Cookie and King-Lu arrive with a dessert made from stolen milk. As a point about white European ownership of natural resources, it feels obvious.
Though successful in revising the frontier genre to include nice guys who clean and cook, the critique of capitalism feels underdeveloped. It preaches to an audience that is already aware that capitalism is bad. Or, to bring it back to the cakes, it feeds the message back to itself.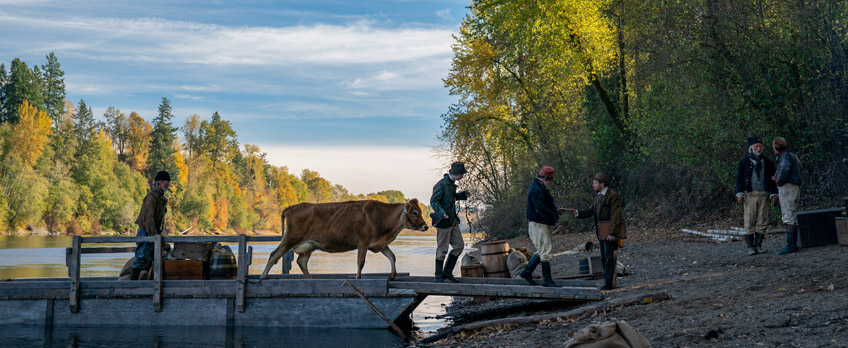 First Cow
First Cow, directed by Kelly Reichardt (Certain Women), is set in 1820s Oregon Territory, in north-west America, less than a hundred years after the Declaration of Independence and 40 years before the American Civil War. The crux of the film revolves around the arrival of the first cow in an upstate settlement overseen by a wealthy British capitalist and Chief Factor (Toby Jones, Infamous). The story follows an unlikely pair: Otis "Cookie" Figowitz (John Marago, Not Fade Away), a skilled cook, and King-Lu (Orion Lee, Chimerica), who is hoping to earn great wealth.
The north-west region is populated with opportunists: men of various trades, creeds and backgrounds who have come to this land to make something of themselves using its resources. After encountering each other on the Oregon Trail, Cookie and King-Lu meet for a second time in a settlement bar, where King-Lu expresses his gripe with their circumstances. "It's the getting started that's the puzzle. There's no way for a poor man to start." Cookie agrees with his sentiment. "You need leverage," he replies.
"Or a crime," King-Lu adds.
Their attitudes exemplify the 'American Dream', a way of life achieved by any method necessary. Although this mentality fuels their chase for material wealth, they only strike it rich in the company of each other. Reichardt uses a quote from William Blake as the epigraph of the film: The bird a nest, the spider a web, man friendship.
News of the Chief Factor's cow, whose mate and calf died on its sea voyage from Brittany, spreads through the settlement. Because cattle are not native to America, the townsfolk haven't tasted cow's milk since they migrated from their homelands. King-Lu notices this and convinces Cookie to use his skills as a cook for a risky get-rich-baking scheme. Under the Chief Factor's nose, the duo steals milk from his cow at night to make delectable "oily cakes" to sell in the morning.
Reichardt's film observes the capitalist ladder from the bottom rung, making the point that the dream of entrepreneurial success enthrals the lower class. Although the film is set in an era of fast and impactful historic development, Reichardt, in her signature style, sets the film at a minimal speed. Little camera movement and long takes allow the audience to perceive the social world around Cookie and King-Lu. Reichardt works as her own editor, thoughtfully building the pace. She begins in modern-day Oregon, before taking us back two centuries. This framing extends the film's thematic implications of unattainable capitalist wealth to the present day. First Cow is a quietly poetic film about the woes of poor men and their consoling friendship.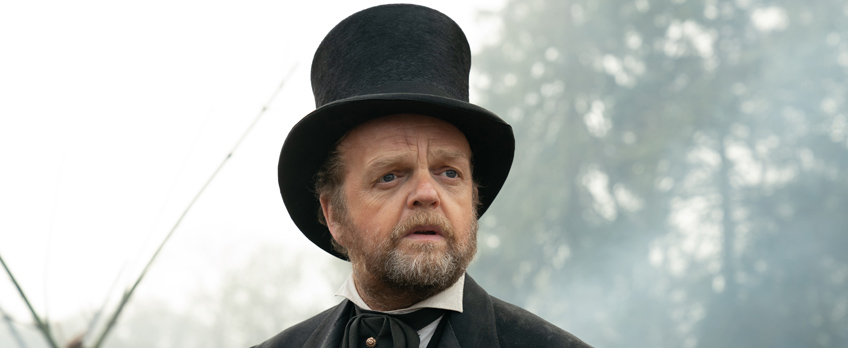 First Cow
Foraging for mushrooms, baking "oily cakes", milking a cow, all in the soft light that falls across the Umpqua River in 1820s Oregon: First Cow is a delicate western. Is this an oxymoron? Kelly Reichardt's frontier story is unconventional and beautifully crafted – a tale of male friendship between Otis "Cookie" Figowitz (John Magaro, Not Fade Away), an unhappy cook who is travelling with a group of fur trappers, and King-Lu (Orion Lee, Chimerica), a worldly Chinese man who is fleeing a Russian gang seeking retribution.
They start a small business, making and selling their oily cakes to settlers of all trades and ages. "Good Lord, give me another!" the settlers respond to the humble donut prototype, made from a "secret recipe" plunged into sizzling oil, and eaten piping hot with a drizzle of honey and a dash of freshly grated cinnamon. The 'secret' part of the recipe is milk from the titular cow – property of the Chief Factor (Toby Jones, Infamous), a wealthy landowner who brought her over from Brittany. Cookie and King-Lu's business model depends, in fact, on stolen milk.
The film depicts their milk thievery in gleeful vignettes: putting down a stool and pail in the dead of night, Cookie milks the cow, making small talk with her, while King-Lu keeps watch from a tree nearby, excitedly calculating the profits that lie ahead. But the delightful possibilities of the stolen milk suggest a broader theme concerning the frontier narrative and the exploitation of natural resources.
First Cow explores the place of the Indigenous Chinookan peoples in this narrative, navigating their way in this complex and colonising world. One of these figures is the Chief Factor's wife (Lily Gladstone, Certain Women), who has entered into a diplomatic marriage with him. She is a proper lady of the house, dressed in a European-style gown, her hair tightly coiffed and pinned up as she sits demurely in the corner, while other members of her tribe remain standing. Acting as translator, she negotiates the two worlds of the Chinookans and the white settlers. When the Chief Factor mentions that fashions are changing abroad and, thus, the demand for beaver pelts will decrease, the Chinookans wonder how the "white man" can hunt so many beavers but never eat the "delicious" tail! The Indigenous people are amused by the white man's wastefulness in his scramble for affluence. After the Chief Factor finally leaves the room, his wife's demeanour shifts. She invites the other Chinookan woman to sit beside her, giggling and playing with her headdress, as she moves between her two identities.
Reichardt reimagines the western to contemplate the variety of transactions at the heart of the colonising project, which are, by turns, hardheaded and heartfelt. She places the friendship of two soft-spoken misfits at the centre of such a narrative, constructed on quotidian gestures and small-scale business ventures. This makes for a radical tenderness in the film's stance as a meditative, sentimental western. An oxymoron? Just so.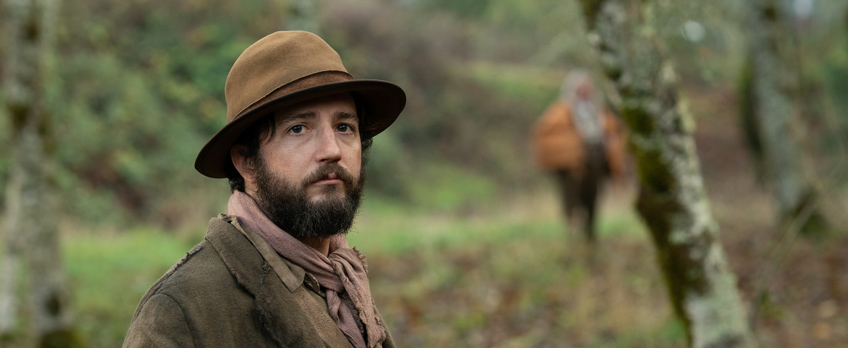 First Cow
Male friendship is at the heart of Kelly Reichardt's resolutely low-key First Cow, in which we witness the early stirrings of capitalism on the frontier. Co-written with frequent collaborator Jonathan Raymond (Meek's Cutoff), the film sees the pair returning to their regular setting of the Pacific Northwest.
It's the early 1820s and we follow Otis "Cookie" Figowitz (John Magaro, Not Fade Away), a shy, unassuming cook traveling with a crew of fur trappers, and King-Lu (Orion Lee, Chimerica), a Chinese immigrant who's on the run from a group of vengeful Russians who want him dead. When the pair first meet, Cookie helps to shepherd King-Lu to safety. Their paths cross again sometime later, and they decide to stick together. They notice a gap in the market and combine Cookie's culinary skills with King-Lu's entrepreneurship, baking and selling mouth-watering "oily cakes" (an early doughnut) to the settlement's delight.
There's a deep mutual understanding between the pair that subtly manifests itself throughout, thanks in no small part to Magaro's and Lee's assured and understated performances. The characters pick up on unspoken cues, like in an early scene that shows Cookie instinctively starting to sweep the floor of King-Lu's shack while his friend chops firewood outside. King-Lu is a skilled trapper, whereas Cookie, the gentle nature-lover, can't even catch a squirrel. The pair serendipitously complement each other.
Which isn't to say that First Cow is without conflict. While out foraging in the forest – which cinematographer Christopher Blauvelt (Mid90s) renders with a shallow depth of field in calming earthy tones – Cookie spots through the trees the first cow in the territory. The cow belongs to the Chief Factor (Toby Jones, Infamous), a vile British landowner. Some of his cronies suggest that he had the cow brought over purely because he wants milk in his tea.
This milk is the oily cake's key ingredient but, of course, Cookie and King-Lu need to keep their furtive use of it to themselves. Cookie justifies all of this by telling King-Lu that "some people can't imagine being stolen from", but the pair don't anticipate how deeply ingrained in the Chief Factor's psyche – and in the logic of the capitalist project he exemplifies – private ownership is.
Reichardt offers a glimpse of how this logic controls and destroys people. This is the harsh reality that looms over the film, the immovable barrier that Cookie and King-Lu come up against. But it's the strength of their bond that Reichardt wants to emphasise with her fitting conclusion, and this is what resonates when the credits roll.
First Cow screened as the Opening Night film of MIFF 68½ in 2020.