MIFF 1962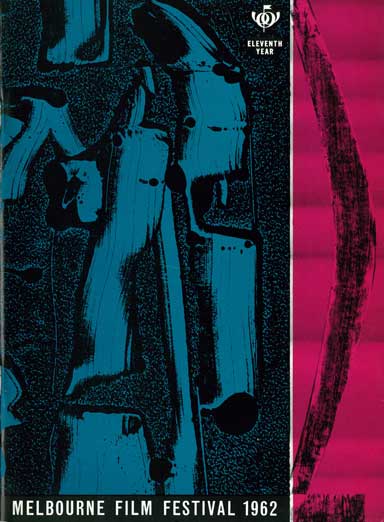 Festival Program
31 feature films and 144 short films were screened from 25 May to 9 June
Full Program
Program in Focus
Major films shown: Shadows (John Cassavetes), Two Daughters (Satyajit Ray), Viridiana (Luis Buñuel), La Règle de jeu (Jean Renoir) and The Island (Kaneto Shindo).

Featured Film
Shadows (John Cassavetes, 1959)
More
Featured Film
La notte (Michelangelo Antonioni, 1960)
More
The decision to alter the format of the festival was made with one aim in mind: that of raising the quality of films presented in 1962.
The organising committee believed that this objective could be attained through two actions: by seeking the endorsement of the festival by FIAPP, the international film producers' body governing festivals the world over; and by offering awards in a competitive festival as an inducement to producers to enter their top-rank productions.
In order to obtain FIAPP recognition, the festival had to conform with the rules laid down for all festivals: playing days had to be reduced to 14, and most feature films could be screened only once to a maximum audience of 2000. After assurances had been given that these conditions would be observed, FIAPP endorsed the Melbourne Film Festival for 1962.
The result of the endorsement and the newly introduced competition may be readily assessed by glancing at the programme. A record number of 175 films have been entered by 31 countries; amongst the films are many which can be classed as outstanding in any year's crop; and amongst the countries which sent major entries are a number which abstained from participating during recent years.
The new system has therefore brought a considerable gain in artistic quality and increased variety. At the same time, many of the night programmes contain different films for the two seasons. The first reaction, naturally, is one of deprivation, but the organising committee considers that this is only an apparent loss. Not being able to see "the other four films" is, in fact, the price paid for one's own season's four "exclusives". In any case none of the eight films in question would have reached the festival screen if the single screening system had not been introduced. It is hoped that a number of these restricted films will be shown commercially in Melbourne in the not too distant future.
We take this opportunity of expressing our pleasure at having found a home for the festival in the Palais Theatre, where comfort and the proximity of screening venues, together with the improved catering facilities, should greatly enhance members' enjoyment of a season of films containing some of the best productions of the world's cinema today.
Introduction taken from the 1962 official guide
Erwin Rado